Some days I feel like this little one is sucking every last drop of energy right out of me. Others, I feel like I'm already into the nesting stage. Crazy to think that we're halfway there. Halfway.
Over the weekend I got out my sewing machine and put it to work. I made a couple dipes for K and then an itty bitty (matching) one for our baby. Complete with umbilical cord snap-down. I tell you, it's pretty tiny. I called my fellow cloth diapering sister and marveled over the cuteness of such a small dipe. Then I promptly found a cabbage patch doll to try it on. It fit! :) It's so adorable!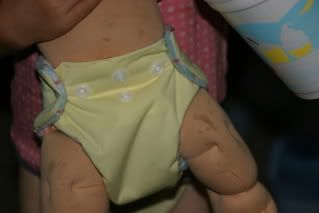 K is quite enthralled with the idea of having a matching diaper as the baby. I've been letting the girls play with it until we get closer to the time of needing it. Just seeing the baby diaper makes K ask to wear her matching one. So, I've already washed it, what....three times....in 4 days.