When I decided to make a new bag/purse for myself recently, I wasn't quite sure what I was looking for--other than something "cute." Walking through the discount fabric store with hubby and both girls, I was continually drawn to fabric that I would never have chosen before. The had....flowers?....on them.... I'm mean, really, flowers? SO not me. But, time and again, I was caught looking at this cute fabric.
With hubby's encouragement, I just bit the bullet and bought it. Fabric with flowers on it. Seriously. Odd.
After a wash that changed the colors of the flowers a bit, (because I washed the outer and the liner together...oops) I hacked out a pattern with some newspaper. Then bravely began cutting.
While it didn't turn out perfectly, I'm quite thrilled with the way that this bag turned out. It was the first time that I had attempted anything like it, without a pattern, no less.
So, please, tell me how beautiful it is, k? ;)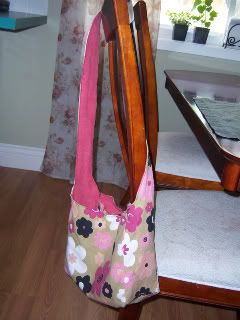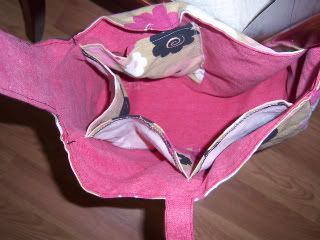 Here it is loaded up with all my gear: